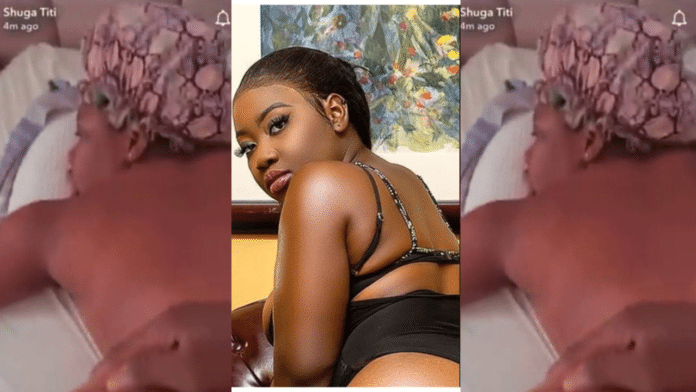 Ghanaian socialite and famed nudist, Shugatiti has caught the attention of millions of Ghanaians after sharing her own sex video on her Snapchat and later deleting it.
Unsurprisingly, Shugatiti who is also rumoured to be a sex worker filmed herself getting bonked in a doggy style.
In the fast-trending video, Shugatiti's curves and face can be clearly seen hence she can't deny not being the one in the video.
Amidst the trend of the video, some tweeps have alleged that the guy who was seriously chopping Shugatiti like his life depended on the intercourse is a popular musician.
To avoid any legal cases after being dragged to court, none of the peeps who claim to know the guy in the video has emphatically mentioned his name.
If the rumours are true, I know someone will defiantly create an anonymous create account on any of the social media platforms to spill the beans.
Well, prior to this, we had seen worse from her hence this isn't surprising. Click on this LINK to watch the video.