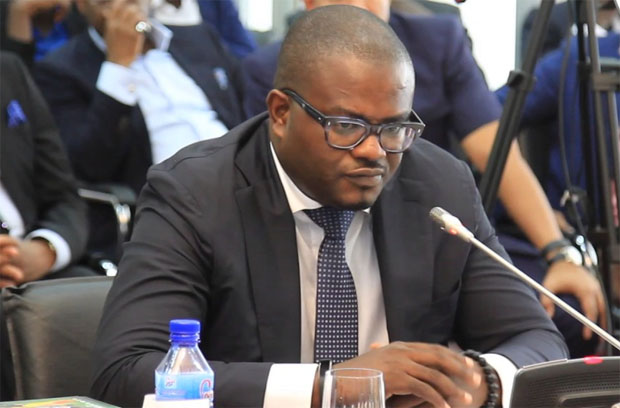 Scores of Ghanaians have been reacting to the dismissal of Charles Adu Boahen by President Nana Akufo-Addo following corruption allegations against him.
The Minister of State in charge of Finance was sacked hours before the premiere of investigative journalist, Anas Aremeyaw Anas' latest work 'Galamsey Economy'.
In the said documentary, Mr Adu Boahen is said to have told the undercover investigators that Vice President, Dr Mahamudu Bawumia needs just $200,000 token as an appearance fee before meeting with supposed investors.
The Minister is also reported to have said that the Vice President would demand some contracts from an investor for his siblings to get his backing and influence in establishing a business in Ghana.
"You mean, like appearance fees and stuff? I mean he, himself (the Vice President), if you give him some (USD) 200,000 or something as a token, as thank you, appreciation, that's fine.
"He's not really, he's not really (like) that. All he needs is to worry about his campaign money in 2020," Charles Adu Boahen is alleged to have said.
In the wake of the development, Ghana's digital space has been awash with a flurry of reactions from netizens.
Find some of the comments below:
Anas is more powerful than the 80 MPs who want Finance Minister and his deputy sacked 🤣😂🇬🇭💔

Just a statement from Anas has sacked Charles Adu Boahen pic.twitter.com/eGrQiLlv8b

— Paa Kwesi (@papakwesi_jr) November 14, 2022
"Before you see the Akufo Addo, you have to pay $20,000"~ Kennedy Agyapong,2017

Cash for seat scandal: to sit close to Akufo Addo, you have to pay $200,000,2018

"You have to pay $200,000 appearance fee before you meet Bawumia"~ Charles Adu Boahen

— KOJO DYNAMIC 𓃵 (@AnnanPerry) November 14, 2022
"Before you see the Akufo Addo, you have to pay $20,000"~ Kennedy Agyapong,2017

Cash for seat scandal: to sit close to Akufo Addo, you have to pay $200,000,2018

"You have to pay $200,000 appearance fee before you meet Bawumia"~ Charles Adu Boahen

— KOJO DYNAMIC 𓃵 (@AnnanPerry) November 14, 2022