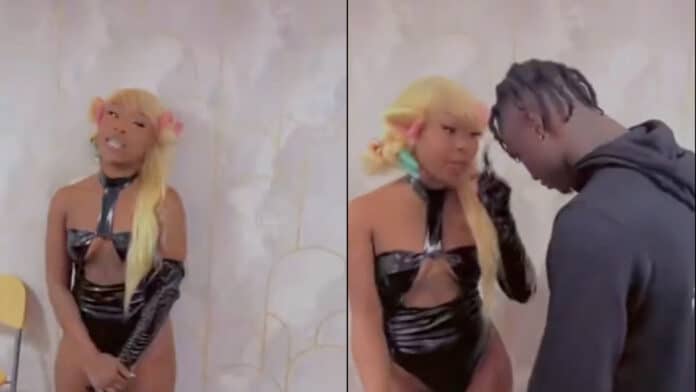 Efia Odo rudely turned down a romantic invitation from JayBahd.
In a viral social media video, JayBahd was left in a state of helplessness when he was flattered by Efia Odo's saucy body.
Clad in what could be described as a stripper's attire, Jahbahd could not deal with the urge to approach her.
However, he was broke-shamed and snubbed by Efia Odo who said he did not qualify for her body because he had no financial muscle.
"You can't afford this body" – Efia Odo said to him after he continued to talk her into accepting him.
Efia Odo and JayBhad. #WizkidLiveAccra pic.twitter.com/V5jPuLJJ4O

— GHPage (@ghpage_com) December 11, 2022
Efia Odo is currently part of a newly released reality show called "My African Love With Efia Odo"
My African Love With Efia, a stunning reality show about a single beautiful lady in search of true love, has been featured on the global online streaming platform Tubi and Farmhouse Movies App.
Watch the trailer below.
Andrea Owusu, popularly known as Efia Odo, appears on the reality show with 14 men in her quest to find her one true love in the Koby Maxwell Productions film.
The reality show, which has impressed many with its high production standards, is now available on America's largest free movie and TV streaming platform.
The series is unlike any other mainstream Hollywood love story, taking an unexpected turn in a lady's quest for love amid betrayals and heartbreaks.
The TV show is the first of its kind to be shot in the diaspora. The first episode contains ten episodes, each lasting between 30 and 40 minutes.
Watch the reality shows below.