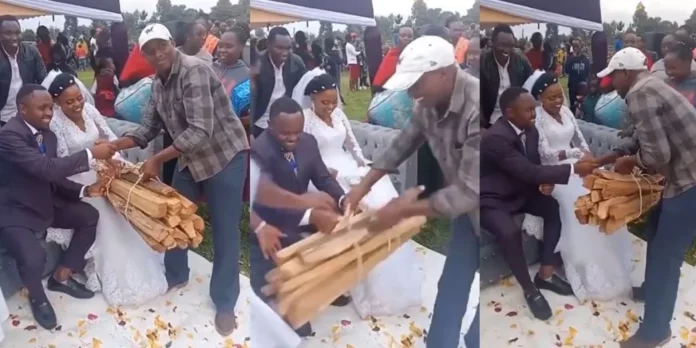 A hilarious video that has gone viral on social media captured the moment a wedding guest gave the couple an unusual gift.
This man cheerfully gave the couple a bundle of firewood, which they gratefully accepted while smiling.
The couple was delighted with the gift, but some social media users who saw the amusing video expressed their disgust at the wedding guest's firewood gift.
According to some, firewood is a bad omen, implying that the couple will struggle financially for the rest of their lives on Earth.
People opposed to the gist also stated that they would reject the gift and evict the man from the venue due to his 'evil' intentions.
Reacting to the video, @ify_chuta wrote: "for bbq. Everything should not be attributed to poverty. The couple appreciated it because they know it's the man's area of business and he offered from his heart."
@seunodutayo wrote: "it's not the gift that matters, see the happiness. Nigerians have a long way to go oooo. Everything is money to us."
@lincoln_city_empire wrote: "I will reject it cause that a bad sign to my marriage."
Watch the video below: