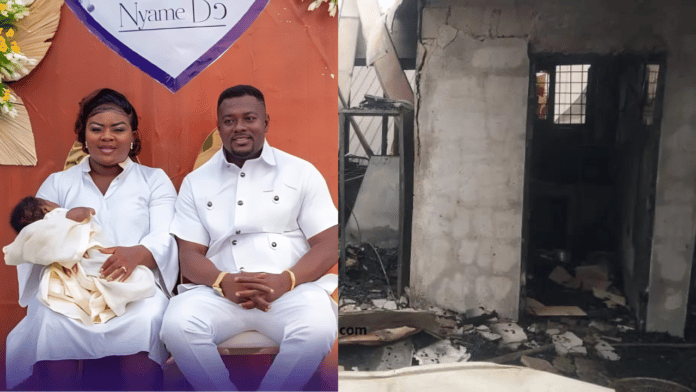 An officer with the Anti-Robbery Unit of the Ashanti Regional Police Command has been killed after fire gutted his residence at Apromase in the Ashanti Region.
Sergeant Owusu Asante Baafi, together with his wife, Yaa Achiaa, and their three-month-old baby were burnt to death in the disaster said to have occurred Sunday night.
It is unclear what caused the fire but personnel of the Ghana National Fire Service (GNFS) were at the scene to begin investigations.
According to an account by a next door neighbour;
"I heard some noise and stepped out of my room,"
"I then saw thick smoke bellowing from the room of the deceased and spreading to my room. I quickly woke up my two boys and rushed them downstairs. Some of the men who came out tried their best to break in and rescue the officer and his family but they couldn't because of the steel door and burglar proof window. Within minutes, the fire spread to all the 5 apartments at the last floor."
Some police officers were also at the scene to help with investigations.
The Inspector-General of Police (IGP), Dr George Akuffo Dampare, is on his way to the Ashanti Region to commiserate with the bereaved families.
Bodies of the deceased have been deposited at the Living Waters hospital morgue
Pictures showed the roofing of the two-storey apartment ripped off by the fire.