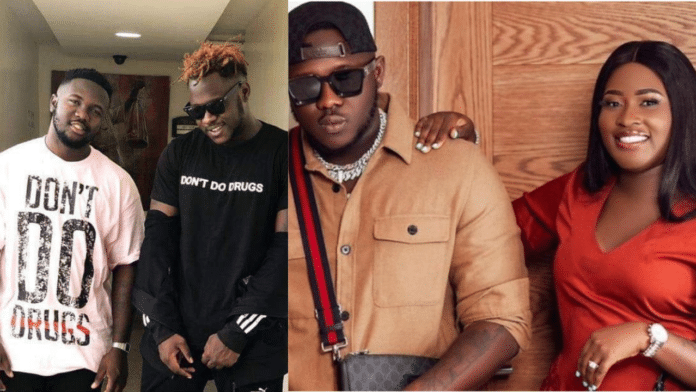 Fella Makafui has reacted to the trending reports that Medikal sacked his long-time friend who doubled as his manager because of her.
As revealed by Medikal himself during an interview on HITZ FM just yesterday, he has parted ways with Flow Delly.
Explaining why he's no more working with Flow Delly, the "Oma Ada" hitmaker described the issue as sensitive and doesn't want to go into deep details.
According to Medikal, Medikal the two had mutually agreed not to work together again and, as a result, had ended whatever they had going for so many years.
He added that their working partnership ended just about two months ago, and Flow Delly is no longer in her camp.
"I am no longer working with Flow Delly. The reason is quite sensitive, so I don't really want to go into that. But he is a good guy," Medikal said.
Many have read meaning into it by stating that Medikal probably sacked Flow Delly to protect his wife, Fella Makafui.
For him to describe them as "activities" and refuse to elaborate on them alone has raised suspicions about the marital solidity of the rapper and actress.
Therefore, many Ghanaians including controversial blogger and critic, Bongo Ideas also concluded that something clandestine could have been going on between Flow Delly and Fella Makafui, and Medikal had to let him go after finding out.
Sharing his intel on Twitter about Fella's alleged romantic affair with Flow Delly, the mother of one hurriedly went under Bongo Idea's tweet to attack and additionally ask if he's mentally stable.
She simply commented, "Are You Mad?"