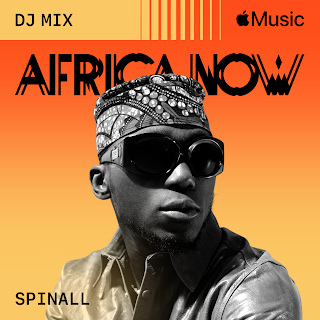 Apple Music announces the expansion of its flagship African Music playlist and radio show, Africa Now, to include a new monthly DJ Mix created exclusively for the platform.
The first DJ to create an Africa Now DJ Mix is Nigerian superstar DJ, producer and entrepreneur, SPINALL (real name Oluseye Desmond Sodamola), whose original material straddles Afrobeats, Afropop and EDM, and who has collaborated with Africa's biggest names like Wizkid ("Nowo" & "Loju"), Tiwa Savage, Nasty C and Asake as well as international stars like Summer Walker, DJ Make and 6LACK.
SPINALL's exclusive Africa Now DJ Mix features 40 tracks including hits from the likes of Asake, Rema, Omah Lay, Davido & Adekunle Gold. "The Africa Now playlist has been one of the most influential Afro playlists showcasing some of Africa's biggest and potential smash hits," SPINALL tells Apple Music. "It's an honour to be the first African DJ to produce a mix for this amazing playlist. I have also added a few exclusives you will never find anywhere else. Ladies and gentlemen, dive into this mix with a confident speaker or headphones, and let the mix light up your world!".
Apple Music is the ultimate hub to an eclectic array of independently curated DJ Mixes from Nigeria, South Africa, Kenya, Uganda and Ghana. Apple Music's African DJ Mix curator partners also include a wide variety of top-tier names like Balcony Mix Africa, iMullar Sound System, KUNYE, Life Of The Party, Obrigado, Pan African Music, Party In The Jungle, Soul Candi, Spin With Engage and Turntable Entertainment.
"If you have observed the evolution of African Music, you wouldn't deny that DJs have been a necessary link between a track and its intended audience, through nightlife, radio and DJ mix CDs sold in traffic, especially unique to Nigeria in the early 2000s. DJ mixes on Apple Music hasn't only revived the DJs relevance, but has also created a new and substantial revenue stream for DJs, and for the audience - a nostalgic, new and exciting way to enjoy music. In my opinion, this program is genius." - David Evans-Uhegbu, Party In The Jungle.
"What started out as a modest record store in the prime of vinyl music, Soul Candi as a brand evolved into a key figure in South African and African House Music culture. Highly renowned for our critically acclaimed compilations, Soul Candi Records delivered some of the most sought after DJ mixes in South Africa. With a global shift from physical to digital music consumption, it no longer made it possible to bring these to our fans on some of their favourite streaming platforms, but that is no longer the case. Soul Candi is proud to announce that many of our classic compilations will be available to stream in their entirety on Apple Music. Soul Candi Sessions, Stereo Candi, Music Box, House for Lovers to name but a few. Relive the nostalgia thanks to Apple Music DJ mixes." - Adrien Conradie, Soul Candi.
"Our mix curator page is dedicated to championing the most exciting and exceptional DJ mixes across Africa. We are focused on promoting the most distinct African DJs in ways that make them engage with one another's work, further building a musical audience influenced by the quality of mixes performed by these DJs who can virtually bring any mood to life. Our journey to supplying DJ Mixes to Apple Music started first as an idea to showcase the best of Africa's talent through meticulously curated DJ Mixes and to create more opportunities for African artists through these mixes with the mind of building their audience on Apple Music. With a digital platform like Apple Music, more African DJs are being allowed to showcase their creative potential. More than ever before, DJ Mixes have become an engaging option for music lovers as they offer a seamless listening experience without the need to click to the next song when listening." – Bugwu Aneto-Okeke, Spin With Engage.
Apple Music x SPINALL Africa Now Mix Track list:
1. Lonely at the top - Asake
2. Darling - Victony
3. Ta Ta - Bayanni (Refix)
4. Love is wicked – Brick & Lace
5. Kpe Paso - WC x Olamide
6. Calm down - Rema
7. Reason - OmahLay
8. Asake ft Olamide - Amapaino
9. Top Mama Refix - Spinall
10. LoJu - Spinall ft Wizkid
11. Aquafina - Young John
12. 2:30 - Asake
13. Available - Davido
14. ICU (SPINALL Refix) - Coco Jones
15. All eyes on me - Niniola
16. Suka - Khanyisa
17. New Religion - Olamide ft Asake
18. Bunda - Spinall ft Kemeul & Olamide
19. Ogaranya - Adekunle Gold
20. Terminator - King Promise
21. All eyes on me - Niniola
22. Ulala kanjani - DJ Jaivane
23. Can't be stopped - BoJ
24. Shapally - Young John
25. Duck Vibes - Vibe Kulture
26. Traboski - Buju
27. Pick Up - Tiwa Savage
28. Shako - Barry Jay
29. GottoMove On (SPINALL Remix) - Diddy, Bryston Tiller & Niniola
30. Mnike - Tyler ICU
31. Give me love - SPINALL ft Niniola
32. Ex Convict - Shallopopi
33. Basquite - Asake
34. Who told you (SPINALL Refix) - Jhus
35. Ye anthem - Smada Refix
36. Scatter Scatter - Fave
37. Party No dey Stop - Adekunle Gold
38. Tossimitoss - Bad Boy Timz
39. Dlala - Phuze
40. Get up - TMXO
About Apple Music
Apple loves music. Apple revolutionized the music experience with iPod and iTunes. Today, the award-winning Apple Music celebrates musicians, songwriters, producers, and fans with a catalog of over 100 million songs, expertly curated playlists, and the best artist interviews, conversations, and global premieres with Apple Music Radio. With original content from the most respected and beloved people in music, autoplay, time-synced lyrics, lossless audio, and immersive sound powered by Spatial Audio with Dolby Atmos, Apple Music offers the world's best listening experience, helping listeners discover new music and enjoy their favorites while empowering the global artist community. Apple Music is available in over 165 countries and regions on iPhone, iPad, iPod touch, Mac, Apple Watch, Apple TV, HomePod mini, CarPlay, and online at music.apple.com, plus popular smart speakers, smart TVs, and Android and Windows devices. Apple Music is ad-free and never shares consumer data with third parties. More information is available at apple.com/apple-music.