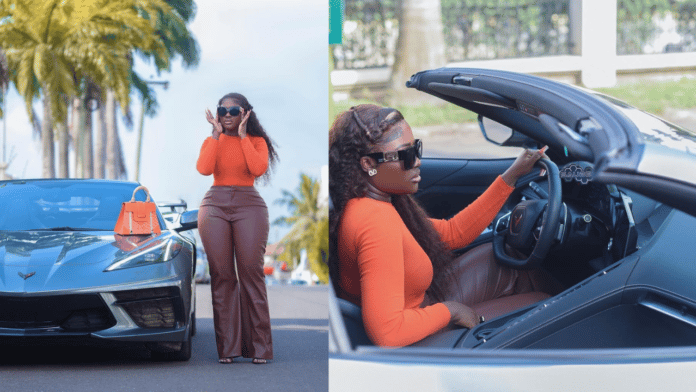 Actress, Fella Makafui is currently being roasted and ridiculed on the internet for flaunting Chevrolet Corvette which doesn't originally belong to her but made it appear that it's her new ride.
Around 2 pm yesterday, the mother of one took to her social media pages to share pictures of herself posed beside a brand new Chevrolet Corvette.
In one of the pictures also, she was seated inside the 'monster' ride – The caption she attached to the photos made it convincing that she recently added the car to her garage.
She wrote; "Worth every headache"
Apparently, Fella Makafui is not the owner of the car she subtly bragged to be the owner with reference to her taunting caption.
According to our checks, the car Fella showed off on the internet belongs to one businessman known as Kelly B.
Kelly B is into car rentals and Fella hired the car for a shoot just to sneer at her colleagues on the internet.
Our celebrities are consumed with fake lives. Only naive people will take them seriously anytime they share their winnings on the internet because most of them don't exist in real life.