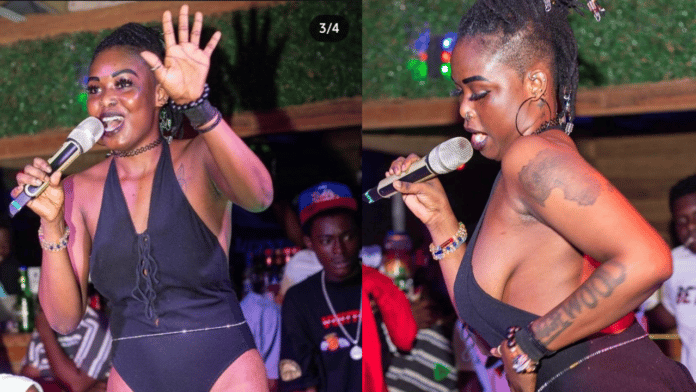 Up-and-coming Ghanaian musician Angiewood better known as Badgirl Trender has set social media ablaze after putting her goodies on display during a stage performance.

The talented singer, who also has the perception that the only way to get the attention of Ghanaians easily is to go bare it all was rocking a swimmer wear to perform exposing about 90% of her body.
During the period, she twerked her saucy bortos and smooched herself in a romantic way that took her fans to a different level.
Citing the photos which were taken during the event, Angiewood's bushy vayjayjay almost showed and this has triggered a lot of Ghanaians to launch a scathy attack on her.
some have described her as a dirty girl who doesn't observe personal hygiene because at least, she should have shaved before attending the event.
Mind you, this is not the first time Angiewood is doing this, since deciding to enter the music industry, she has been going live raw just to get the numbers to advertise herself.
Check out the photos below: