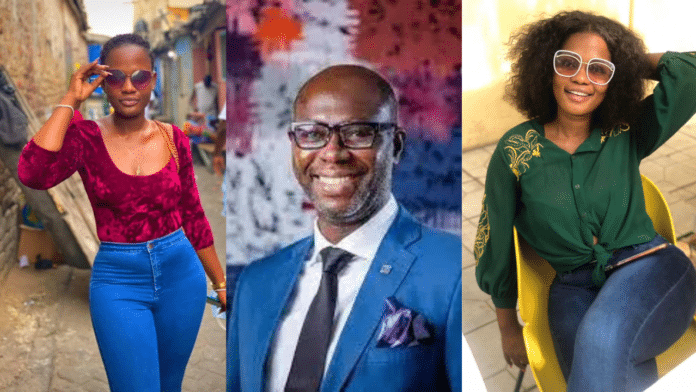 The most dangerous move a married man or a man, in general, can make is to date a girl who has nothing to lose.
I don't think this girl will enter into the gutters if she had a career or brand to protect. It's great she sued him but for her to leak the content and taunt him with videos and WhatsApp status is akin to destroying his livelihood and reputation.
Now that he has lost his job let's see how he can pay for the things she wanted from the suit.
Following the yet-to-be-authenticated report that First Atlantic Bank has fired Mr Ernest Kwasi Nimako.
A lot of Ghanaians have shared their sentiments over the incident which was already foreseeable after Debby's writ of summons went viral on social media.
While some social media users strongly believe that this will be a deterrent to the senior staff members who use their positions to sexually harass young ladies at the workplace.
Others have also shared the opinion that since Mr Ninak didn't rape Debby and she consented to have sex with him, he should have only been queried and not necessarily sacked.
This development has opened up a hot conversation piece on social media and it seems everyone has his or her two cents to share about the whole issue.
Below are some of the opinions shared by Ghanaisn concerning the reported sack of Mr Ernest Kwasi Nimako.
NB: The news that Mr Ernest Kwasi Nimako has been sacked hasn't been
confirmed by First Atlantic Bank yet!
Jake Adombire Atibiya – I stand to be corrected, but I don't think sacking him is fair. That's Mr Nimako's private issue and has not brought the entity he's working with to disrepute.
Eric Fiifi Osam-Tewiah – Sometimes it hurt like hell, when people come into your life only to make it worse than they met u. Mr Nimako will surely prevail.
Maame Efua – Someone who has been in the banking system for more than 10 years, this won't break his finance
Akosua Agyenim Boateng – Well next time he will not leave his brains at home n go n cheat.some ppl got nothing to lose and the lady is clearly one.it will surprise u she will go on to live her life and even get married someday. If you live in a glass house,don't throw stones.serves him right.
Nelson Atikpo – Am sure she deal with some unqualified lawyer.Because any rational human would have thought of the lady's future career lines.This is a University graduate who might want to work in future.Which company is even going to employ her.Too many issues were swept under the carpet.