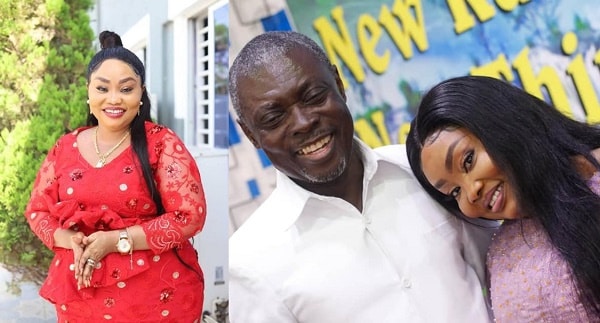 Osofo Kyiriabosom's estranged wife, Madam Princess Nyarko has exclusively spoken out following reports of her divorce from her husband.
The report that Osofo Kyiriabosom has divorced his wife was first published on the internet by the man of God himself.
He made this revelation while speaking to his congregation last Sunday.
After making this disclosure, the controversial man of God confirmed that he shared a child with another woman and that's why his wife opted for divorce.
He maintained that the fact that he went out with another woman did not give her the impetus to leave the marriage. Also, Osofo Kyiri Abosom narrated how her ex-wife peddled falsehoods about him and said he works under the influence of "juju."
"It is all because I have a beautiful baby with another woman." She has taken me to court because she wants my properties. She is moving from one court to another because of what she can get. "Officially, I wish to announce that my wife and I are no longer together," he said.
Amidst the brouhaha, Madam Precious has alleged that her husband has a low sperm count and can't impregnate a woman.
She continued that, their first child was adopted and their twin children were conceived through IVF.
As claimed by Madam Precious, she hasn't divorced Osofo Kyiriabosom yet because she hasn't returned the bride price he paid to her family yet.