Renowned Ghanaian preacher Reverend Elvis Agyeman has invoked what appears to be generational curses on some persons who hijacked his YouTube account.
The man of God, who has won the heart of youth in the country through his religious teachings, bemoaned losing all his content as the perpetrators of the internet attack deleted all his Christian sermons dating back many years.
The founder of Grace Mountain Ministry streams his late-hour sermons titled Alpha Hour daily on various social media platforms of his church.
The sermons which are streamed via Facebook, Instagram, TikTok, Zoom and YouTube garner more than 100,000 watchers from all walks of life each day of the week.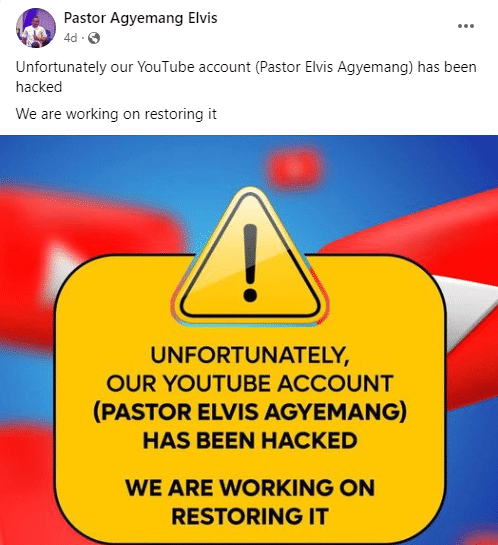 In a video address, Pastor Agyeman said he's shuttered by the actions of the culprits who have vile intentions of attacking his ministry and the gospel of God.
"Hijacking the page didn't hurt me like deleting the sermons. Because of what you have done, everything God created will be against you," he said.
To this end, he pronounced doom for those who took the action and their cohorts.
Watch the video below:
Pastor Elvis Agyemang has close to a million followers on his Facebook page, while his YouTube channel had amassed over 200k subscribers.
As of writing this publication, the channel is no more available following the hack.
He has however announced that a team is working around the clock to restore it.