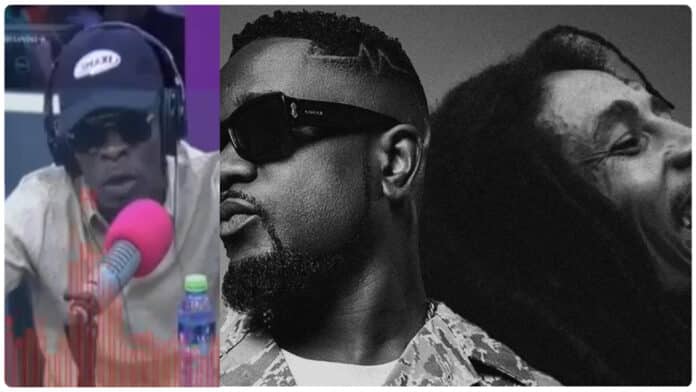 Shatta Wale had described Sarkodie's current project with Bob Marley as insignificant.
According to the SM President, Sarkodie only got featured on a track made by a ghost and thus could not understand what all the noise was about.
Shatta Wale went on to downplay the essence of the feature by saying:
"I don't think it should be a problem. As we here, Sarkodie has featured Bob Marley, at least we have someone who has featured a ghost," during an interview on Luv FM, Kumasi.
Proving answers to a question a fan asked him on Twitter Spaces about what he made of Shatta Wale's comment, Sarkodie said that as long as everybody in the industry was happy about his feature on Bob Marley's "Stir It Up" track, he cared very little about naysayers like Shatta Wale.
"I haven't checked social media that much but I think everybody is happy for what has happened unless I'm proven wrong," he added.
Sarkodie has come under a garage of criticism following his work with Bob Marley. Many believe he was not the right person for the job and could have passed it on to the likes of Stonnebwoy.
However, Sarkodie revealed in an interview with Amazon Music that he nearly passed on the opportunity when he felt he did not have what it took to be featured by Bob Marley.
"When I had the email, I almost passed it on and not just out of respect, I felt that I was not worthy to lay my vocals next to the legend. I was really hard on myself."
Sarkodie and Shatta Wale had a back-and-forth in 2018 which degenerated into musical brawl. Would we be going back to that?