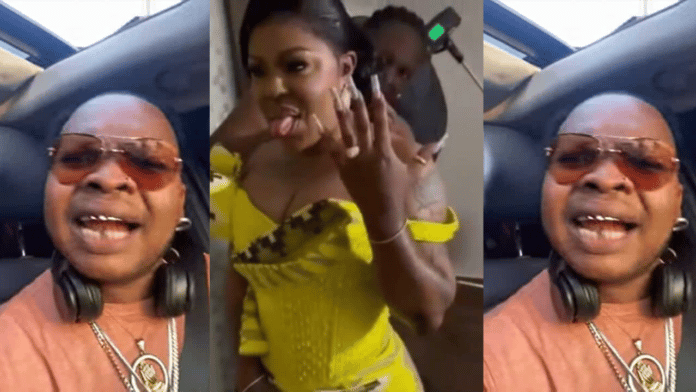 Nana Tornado who first gave Ghanaians a clue about Afia Schwar's new husband has stormed the internet once again with another juicy gist.
Recall that earlier yesterday, Nana Tornado 'exposed' how Afia Schwar blackmailed her new husband to marry her and also manipulated him to hand over his first wife's Toyota Prada to her (Afia Schwar).
As claimed by Nana Tornado in the video, Afia Schwar used juju and 'Do As I Say' on the chief because there's no way the highly respected man would have married her with his clear eyes.
In this fresh video, Nana Tornado took a deep swipe at Afia Schwar once again and explained how she cunningly used some dirty secrets she has about the chief to influence their marriage.
According to Nana Tornado, Afia Schwar got this highly secretive information which will ruin the reputation of the chief if it gets leaked on the internet by scrolling through his phone without his knowledge during one of their bedroom encounters.
Afia Schwar's bestie who has now become her sworn enemy assured the Chief not to worry because he can save him from the jaws of the mother of twins if he contacts him.
He also swore to go to all ends that Afia Schwr returns the chief's first wife's Toyota Prada to her because she's the rightful owner of the automobile.
Meanwhile, the chief has been summoned by his elders for questioning because his marriage to Afia Scwhar is considered a grave abomination