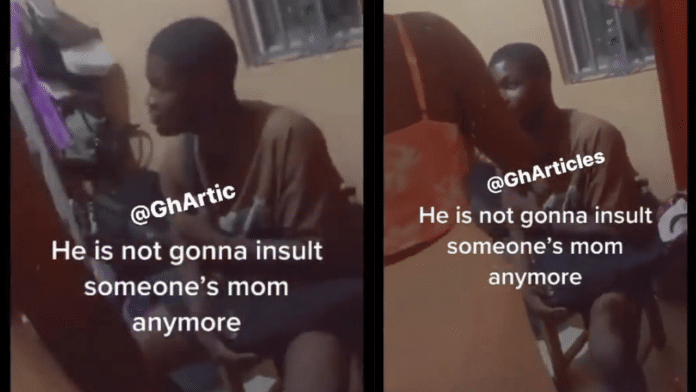 A trending video of a lady slapping her male friend for insulting her mother has caused a massive stir online
.
In this short clip which has since received mixed reactions from social media users – The attacker can be heard accusing the victim of insulting her mother.
As alleged by the lady, her male friend has been going around insulting her innocent mother in WhatsApp groups.
The pained lady who was all in for revenge also stated that she wouldn't have been agitated if the guy insulted her rather instead of attacking her mother who has never crossed paths with her male friends.
According to the commentary surrounding the video, the lady has been giving the young man 5 cedis daily as chop money – And I strongly believe this is the sole reason she got infuriated after listening to the Whatsapp audio of his friend insulting her mother.
Regardless of the anger and emotions which took over the lady's conscience, it was still wrong for her to physically attack the guy.
Tweeps who have come across the video have strongly condemned the lady's actions because it would have been a different story If it was a guy filmed attacking a lady.
Watch the video below.