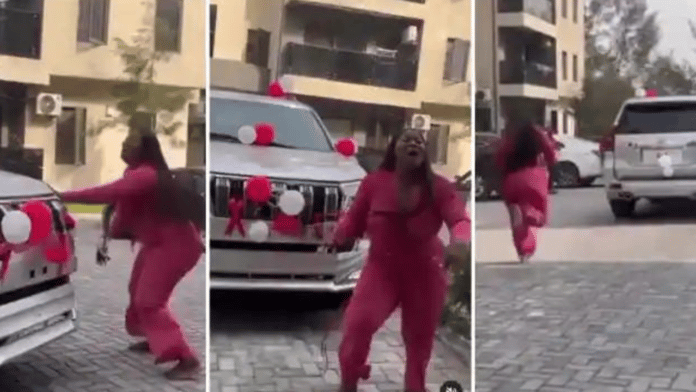 There's a trending video on social media which has heaped massive reactions on Instagram especially as it shows the moment a young lady was trying to stop the man who had come to gift her a brand new Toyota Land Cruiser.

In the short clip published on most of the pages of Instagram bloggers, shared on the lady was surprised with the car as part of the recently-ended Valentine's Day celebration.

However, as the man got there he unexpectedly found another gentleman in a cosy position with his girlfriend which got him pissed off.
As seen in the footage which has since gone rife, the lady tried to stop her boyfriend who came to surprise her while referring to the other man who was in the background as 'baby'.

She tried everything including standing in the way of the moving car but nothing she did was enough to stop her angry boyfriend from getting away with his car.
The lady will live to regret the decision of allowing her side guy to pay her a visit on that fateful day.
Now, she didn't only lose her caring-rich boyfriend but also lost a property gift in addition.