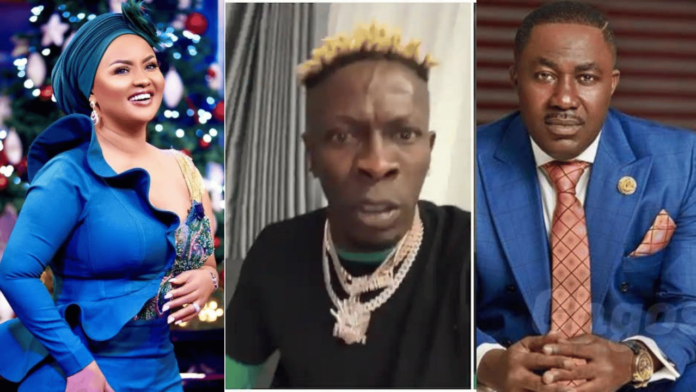 About a month ago. self-styled African dancehall king, Shatta Wale has heavily descended on revered Ghanaian screen icon Nana Ama Mcbrown in a fast-trending video.
As we all know, Shatta Wale likes to pick on innocent people unprovoked to make headlines and go viral in the process.
In the scathy attack, Shatta Wale slandered the UTV United Showbiz Host and described her as an incompetent person who was employed by the TV station for the obvious reason.
As proposed by Shatta Wale to Dr Osei Kwame Despite, he should sack Nana Ama Mcbrown and employ university graduates who know more about the current entertainment terrain.
Although Shatta Wale eulogized Dr Osei Kwame Despite creating job opportunities for the youths their decision to employ Mcbrown is a big 'NO-NO' for him.
Shatta Wale is quoted saying – "You people are villagers, all your programs are nonsense, Nana Ama McBrown doesn't know anything about presenting" in a part of the video.
Shatta has finally apologized to Mcbrown during an interview on Nhyira FM.
According to Shatta, his comments were blown out of proportion because he didn't mean to demean the star actress.
He explained that he only meant Nana Ama Mcbrown is not well vexed in entertainment dialogues and he was only trying to tell the management of UTV to either train or hire another person who can perfectly moderate the show.