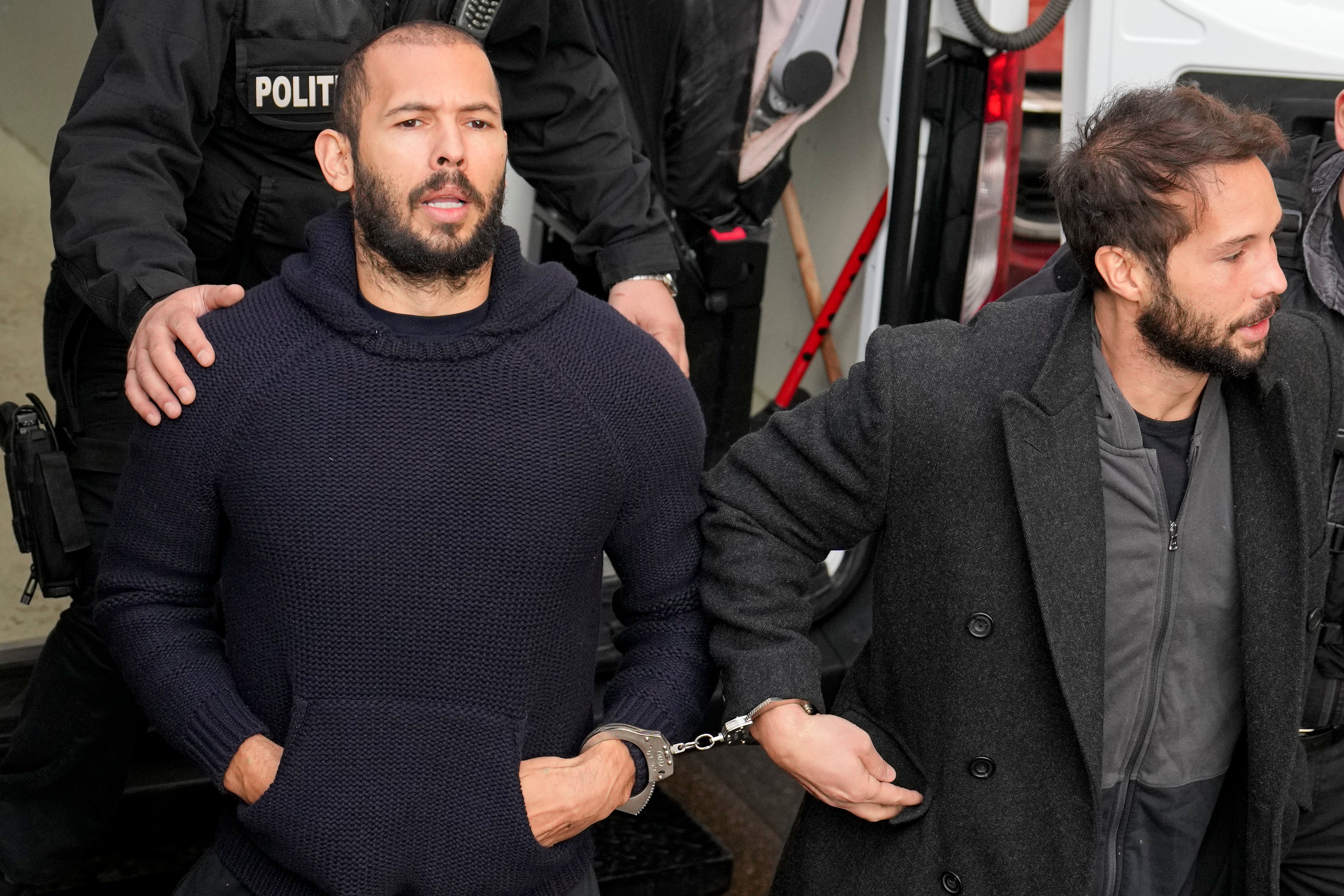 Two young women who denied being trafficked by Andrew Tate and his brother Tristan did not understand that they were enslaved as they had been brainwashed, a Romanian court has ruled.
The two women both claimed that they worked voluntarily for Andrew and Tristan Tate but a report prepared by a clinical psychologist said they were both left with trauma and did not recognise that they were being exploited.
Andrew Tate, 36, and his brother Tristan, 34, were arrested in December on suspicion of human trafficking, rape, and forming an organised crime group to exploit women.

The brothers and their alleged female accomplices - separate from the two outlined in the clinical psychologist's report - appeared at the Bucharest court yesterday where their appeal against a judge's decision to extend their arrest a second time was turned down.
The clinical psychologist's assessment was described as extrajudicial evidence but judges at the Bucharest Court of Appeal did take the report into consideration over yesterday's decision.

One of the two women is originally from the US and had been attracted to Romania by Tristan Tate, the court heard.
The Romanian prosecutors considered the two women as victims of the Tate brothers despite their claim that they worked voluntarily for the two men.
The magistrates took the clinical psychologist's report into account and ruled that they did not speak knowingly and had been brainwashed through their exploitation.
The court said this was due to the brothers' recruitment process of making their alleged victims 'fall in love' with them, where they falsely claimed to want a relationship or marriage.
The Romanian court ruled: 'Although the named [woman one] and [woman two], both in the statements given before the criminal investigation bodies, as witnesses, and through the authenticated statements given before the notary and submitted by the defense to the case file, denied any form of exploitation on the part of the four defendants, the collegial panel of rights and freedoms appreciates that these statements do not reflect reality.
'It is known that, in the case of the 'lover boy' or 'by falling in love' recruitment method, the victims of human trafficking do not always recognize the fact that they were enslaved and exploited and do not cooperate with the judicial bodies, attesting to the idea that these activities were carried out voluntarily.'

The Tate brothers and their alleged accomplices, Georgiana Naghel and Launa Radu, continue to deny any wrongdoing.