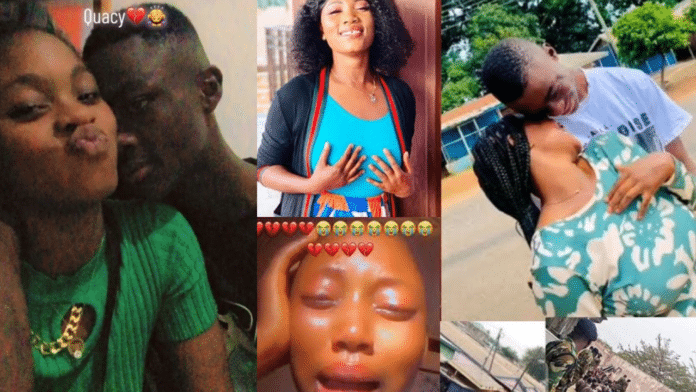 A piece of new information about the death of the Imoro Sheriff, 22, who until his death, was with the Ghana Armed Forces (GAF) band in Sunyani in the Bono Region confirms that the late military officer truly visited his girlfriend at Ashaiman.
According to a report by ONUA FM, Imoro visited his girlfriend last week Friday and stayed with her until 2 am when he decided to leave her place to his home.
While on his way home, a gang of robbers attacked him and requested his phone, money and other possessions.
Being a military man, he initially refused to kowtow to their threats but was later stabbed in the arm and stomach which weakened him.
The robbers successfully took his iPhone and took their heels after severely injuring him.
Because no one was outside at the time of the incident Imoro was left to die in a pool of blood after bleeding between 2:00 am – 3:00 am Saturday morning.
At the moment, the perpetrators of the heinous act have still not been found but the lady is currently in the police costing assisting investigations.
Prior to this, reports that surfaced and went rife on social media alleged that Imoro was murdered by his girlfriend's side guy but this information is still yet to be either confirmed or dismissed.
Meanwhile, two ladies named Nana Yaa Mingle and Ankamah Bendicta have both surfaced on the internet with claims of being the soldier's main girlfriend.
As claimed by Nana Yaa who is a nurse, she was the main chick in the relationship hence Benedicta was just a side chick whom Moro was chopping with no plans of marrying her.
Just like Benedicta, Nana Yaa has also shared cuddling videos she made with the late Moro before he was gruesomely killed in Ashauman last Saturday.