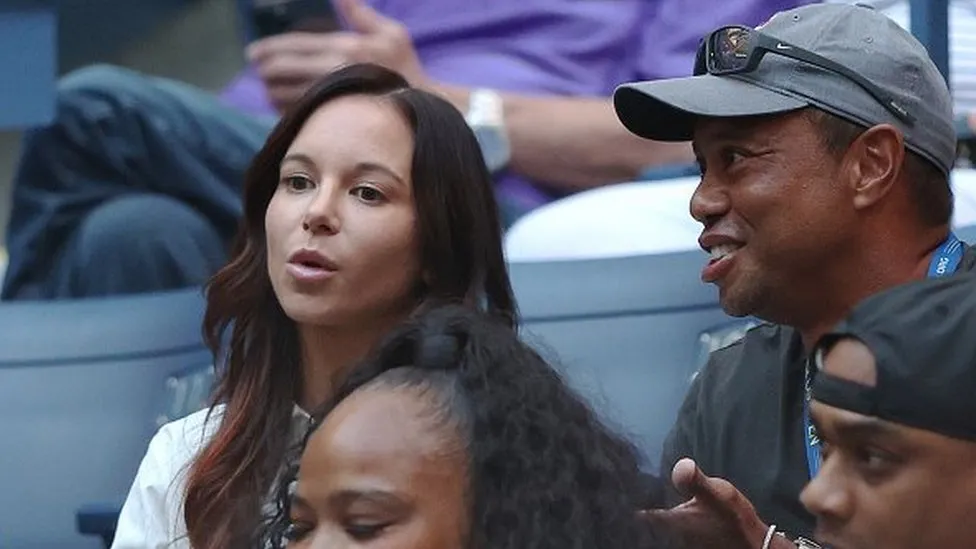 Lawyers for Tiger Woods have denied that he and his ex-girlfriend, who is suing him, had a deal that allowed her to share his Florida home with him.
Erica Herman is seeking $30m (£25m) from a trust held by Mr Woods, claiming she was tricked into packing her bags for a holiday, then locked out.
A non-disclosure agreement she signed with Mr Woods in 2017 requires that any legal disputes be settled out of court.
She is trying to have that agreement cancelled by a court.
Ms Herman, who managed a restaurant owned by Mr Woods before their relationship began, has filed two lawsuits in Martin County, Florida.
She is arguing that the non-disclosure agreement (NDA) she signed is invalid because of a new federal law that limits the enforceability of NDAs in cases of sexual harassment or abuse. She did not make any such allegations in her lawsuit.
She is also suing the Jupiter Island Irrevocable Homestead Trust, which Mr Woods controls, claiming that the 15-time champion golfer violated an oral agreement that allowed her to live in the home with his two children.
Ms Herman says she was allowed to live there rent-and-expense free for the six years of their relationship in exchange for personal services that she provided to Mr Woods. She says there were five years left of the deal when he broke off the relationship.
But lawyers for Mr Woods argue that she was a "guest" who had been "invited" to stay with him.
"Mr Woods never negotiated an oral tenancy agreement with Ms Herman. Nor was there ever a written tenancy agreement between Mr Woods or the Trust," his lawyers said in a court filing.
The documents say that Mr Woods notified Ms Herman on 13 October last year that he was ending their relationship.
The court filing says he "informed Ms Herman that she was no longer welcome in the Residence".
"Mr Woods arranged for Ms Herman to stay at a local luxury resort and provided funds she could apply toward a new residence," the document adds.
His lawyers argue that she sued the trust to try to bypass the NDA, and maintain that the NDA remains legally binding.
The court documents have come to light a month before Mr Woods heads to Augusta National in the US state of Georgia to play in the Masters.