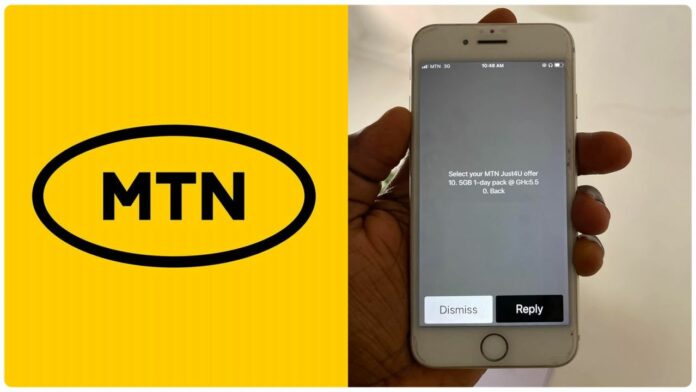 MTN Ghana has suspended the Data Zone data bundle, and I know you are surely looking for better options.
While you may want to ditch MTN for another network, what if I told you that you could have cheaper data bundle options on the same MTN network?
MTN Ghana has other, cheaper data bundles that could replace or be cheaper than Data Zone.
These options are the MTN Just4Me Bundle, the MTN Kokrokoo Bundle, the Social Media Bundle, and the 399 Bundle, which are relatively cheaper options than the Data Zone.
The MTN Just4Me Bundle is an individual-based bundle that MTN offers to you based on your constant use of the network for calls, SMS, and data.
The shortcode for the MTN Just4Me Bundle is *141#.
Some of the cheaper data bundle offers on the MTN Just4Me Bundle options are:
1.1GB – GHC5 (30 DAYS)
1.4GB – GHC7 (30 DAYS)
2.2GB – GHC10 (30 DAYS)
2.5GB – GHC12 (3 DAYS)
1.2GB -GHC10.3 (30 DAYS)
5.5GB – GHC5 (3 DAYS)
Note: The MTN JUST4Me offers you get may vary from one individual to the next based on your constant use of it and your daily usage of the network.
MTN Kokrokoo Bundle gives you big data for calls and the internet between the early hours of the day. It is a three-hour duration data plan that starts at 5 a.m. and ends at 8 a.m.
Within this time, you can access the internet, make calls to all networks, and browse the web for as little as GHC1.08. This gives you 400MB and does not expire. The shortcode for the MTN Kokrokoo Bundle is *138*1#. Select option 3 and follow the prompts.
MTN Social Media is a package for people who like to use social media apps. This offer allows you to access all the social media platforms without having to worry about data at all.
You can use the Social Media package to access Facebook, WhatsApp, Instagram, Snapchat, Twitter, and Youtube. It does not cover browsing the web. The shortcode for the MTN Social Media Bundle is *138*1#. Select option 99, select 4 and follow the prompts.
The GHC399 MTN bundle offer is the highest bundle you can purchase on your phone. This offer is budget-friendly and helps you stay connected for months if used wisely.
The GHC399 Abudle offer does not expire, and when calculated, one pays just GHC2 for a 1GIG bundle.
The GHC399 has been reduced from 214 gigabytes to 182 gigabytes, but it is still worth your money. The shortcode for the GHC399 MTN Bundle offer is *138*1#, select Option 1, select Buy for Self, type 99 for more, and select Option 6 to purchase with your Mobile Money or airtime.
Additional Info: You can get a 50% 4G bonus when you purchase these data bundles using the MTN Ghana app. You can download it for free on iOS and Android devices. Additionally, you can subscribe to MTN Ghana's special holiday bundles in the app.