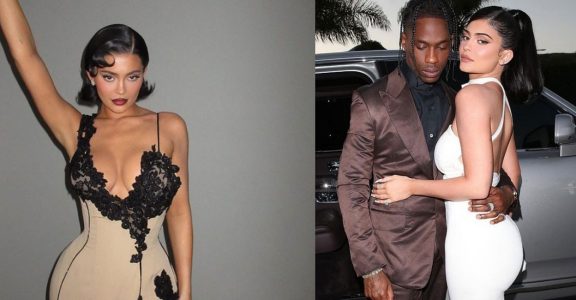 Kylie Jenner and her rapper boyfriend Travis Scott have reportedly broken up yet again.
According to recent reports, the couple split up after rekindling their romance in February 2020.
"Kylie and Travis are back on the road; they were supposed to spend the holidays together, but she went to Aspen to see her family and friends," a source told Us Weekly. "This has happened so many times before; they're known to go on and off, but they always remain friends and great co-parents."
Media reports indicate Kylie took their 4-year-old daughter Stormi on a New Year's getaway to Aspen, Colorado along with her BBFs Stassie Karanikolaou and Justin and Hailey Bieber.
Travis and Kylie also have a second child, a baby boy, who arrived in February of 2022 and was originally named Wolf. However, Kylie revealed that she changed the newborn's name to an undisclosed moniker.
The couple reportedly rekindled their flame back in May of 2021, among rumors that they are in an open relationship, which Kylie denied. Travis and Kylie initially separated in October 2019, after a two-year-long relationship. At the time, a source claimed they were trying to make things work romantically, but opted to put their rocky relationship on pause instead.
The Houston rapper, 31, and beauty mogul, 25, were most recently spotted at Art Basel in Miami in early December. The two reportedly "packed on the PDA" before Travis took the stage to perform at a private party.
The couple has had an on-and-off relationship, which began after they met at Coachella in 2017. They rekindled their romance in early 2020 before welcoming their second child.
In October, Travis sparked cheating rumors when Instagram model Rojean Kar claimed she was on set for a music video Travis was directing. However, he went on to deny that he was involved in any scandal.
"It's a lot of weird shit going on," he wrote on his Instagram Story. "An uninvited person was sneaking photos on, what was supposed to be, a closed set while I was directing a video."
He continued, "I'm saying this for the last time. I don't know this person. I've never been with this person. So please stop with the continuous cyber games and the fictional storytelling."
Travis has been focused on his music. He is expected to release Utopia, the long-awaited follow-up to 2018's Astroworld, later this year.