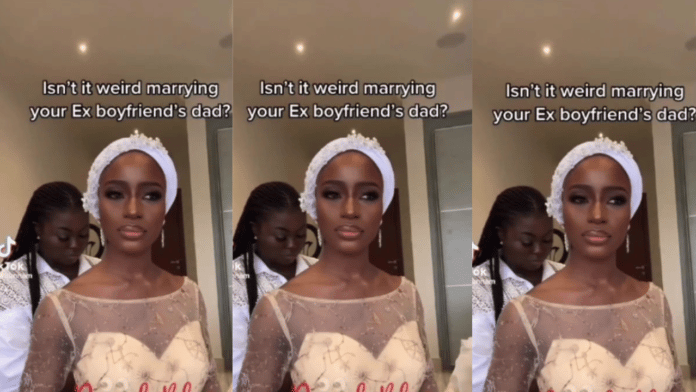 Alexa, kindly play me 'Date Your Fada' by the late Ebony Reigns because this is a real life event of the lyrics in the song.
A beautiful Nigerian bride has gone viral on social media for marrying her ex-boyfriend's father in a plus wedding ceremony.
Apparently, the lady was served a 'hot breakfast' by her ex-lover and as a result of the painful heartbreak – She decided to teach him an unforgettable-painful lesson.
She hooked up with the guy's wealthy father who expressed interest in marrying her just a few months into their romantic affair.
The man had no knowledge that his son had dated the lady before but the bride knew the man because her ex-love had showed her pictures of him when they were together.
Now, both families are aware that the groom's son had something to do with the bride but there's no turning back looking at how far they had proceeded with the marriage rites.
Meanwhile, the lady is very happy for having the last laugh and finds delight in showing her ex-lover 'pepper'.
Watch the video below: