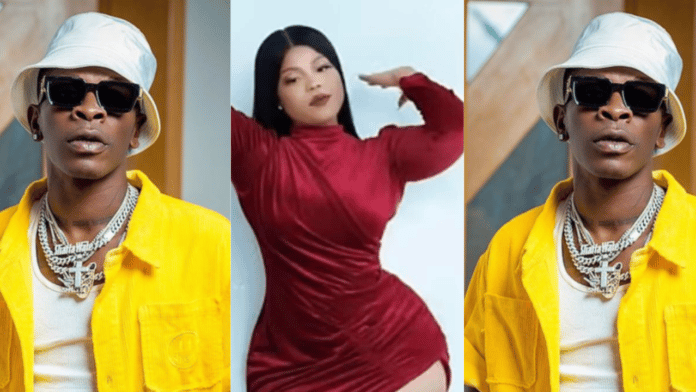 African Dancehall King, Shatta Wale has found love once again and we pray things don't go south as they did with his two public relationships.
Recall that after the SM boss broke up with his baby Mama Shatta Michy, he moved on to another beautiful lady named Elfreda.
Unfortunately, Shatta Wale and Elfreda hit the snag Ghanaians thought the musician was going to settle down with her because he promised to do so when he first shared pictures of the lady on social media.
Shatta Wale and Elfreda's affair turned sour barely two months after Shatta Wale showed off their love to the world and asked his fans to address her as the new QUEEN of the SM Empire.
Ever since then, Shatta Wale has never talked about love again and even swore in one of his Facebook posts that he'll remain single for the rest of his life since most of the women who come into his life have their own agenda.
According to a piece of new information which is currently making rounds on Snapchat, Shatta Wale is currently dating one beautiful lady named Yvonne.
Because of his past bitter experiences, Shatta Wale reportedly pleaded with her to keep their affair lowkey so that social media users won't use their 'cursed mouths' to predict doom about their affair.
Another claim by an insider hints that Shatta Wale and Yvonne have been dating for the past 6 months now and the new SM Queen even spend most of the weekends inside Shatta's mansion and drives his cars around town.
Yvonne is a fair curvaceous lady whose believed to be in her mid-20s. Reports claim she owns one of the biggest saloons in Accra and she's a known boss chick who plays with only 'The Big Men'.
Below is a picture of Shatta Wale's new sweetheart, Yvonne.