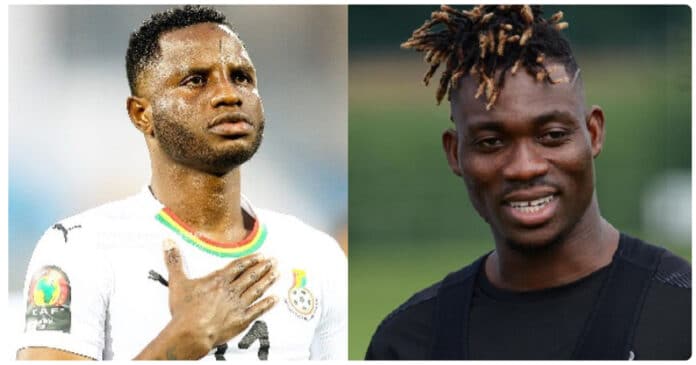 A video has resurfaced about a personal conversation that ensued between former Black Stars teammates Mubarak Wakaso and Christian Atsu.
The former (Wakaso) was warning the latter (Atsu) about his deadlocks, which he claimed were the source of his downfall and several bad luck incidents at the time.
Wakaso stated that Christian Atsu started losing form and experiencing a trend of abysmal performances when he began wearing the dreadlocks.
According to him, Atsu was quite significant without the dreadlocks at the African Cup of Nations in 2013 and 2015.
In fact, he alluded to the fact that the reason Atsu won the "Best Player Award" at the 2015 AFCON was due to his lack of dreadlocks.
Wakaso cheekily insisted that Atsu's dreadlocks had a negative impact on his performance and the overall performance of the Black Stars, where they got kicked out of a couple of tournaments.
Apart from that, Christian Atsu's dip in form at Newcastle, which saw him leave the club for Asia, was also blamed on his dreadlocks and choice of hairstyle.
Was it the same dreadlocks that eventually resulted in "bad luck" for Christian Atsu in the Turkey earthquake? Many have been asking based on what Mubarak Wakaso said in the video.
Wakaso warning Christian Atsu against "bad luck" dreadlocks pic.twitter.com/IGLcdXeAf7

— GHPage (@ghpage_com) February 21, 2023