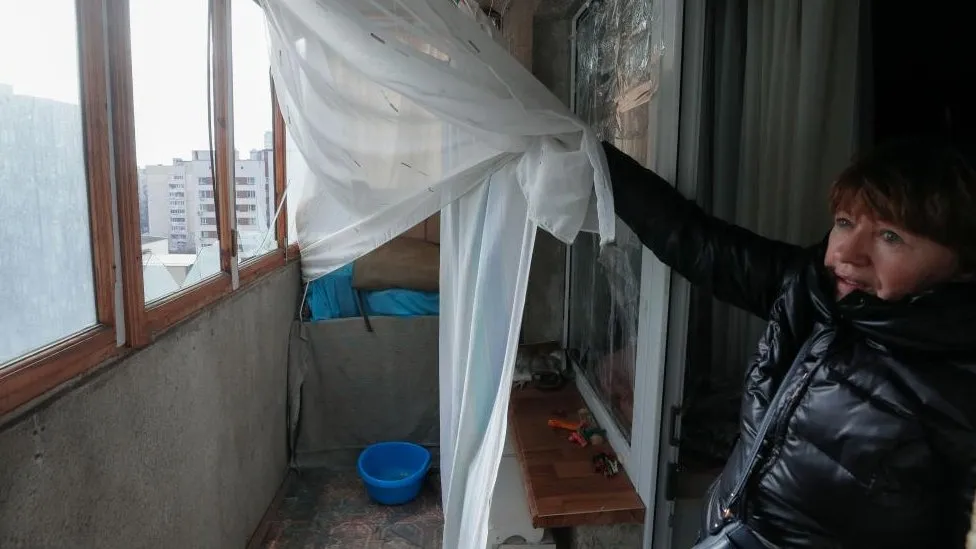 Ukrainians are enjoying the onset of spring. The nights are still cold, but they are emerging from a winter of Russian missile strikes that have cut their power, heating and their water too.
The winter was very hard but it was now over, declared President Volodymyr Zelensky. Ukraine still had heat and the country was unbreakable, was the message.
Until Thursday, Ukraine had just gone for more than three weeks in a row with no blackouts and and even had surplus in the system.
There had been no Russian attacks for three weeks either, and it looked as if Vladimir Putin's battle to bring down Ukraine's supply was over.
"Yes, we're doing it, but who started it?" he said in December, pinning the blame on Kyiv.
It was a far more desperate story at that point. As much as half the energy infrastructure was damaged and a Ukrainian nuclear security expert warned the situation was close to critical.
But during those weeks of quiet, Russia was stocking up weaponry. In the early hours of Thursday it fired 81 missiles and left four regions grappling with emergency power cuts. By Friday, half a million people still had no power in Kharkiv, Ukraine's second-biggest city.
"It's totally cold now. We have food, but only part of it has been cooked," said Oleksii as he watched the battery life on his mobile phone slip to 14%.
Five hundred people live in his block of flats, and when he went to his local "invincibility centre" to power up his phone, there were too many people with the same idea.
Kyiv was also hit and one hospital treating 700 people went without heating and hot water for several hours.
Another 150,000 people were left with no power in Zhytomyr, two hours' drive south of the Belarus border. The mayor said the next few weeks would be critical and rolling blackouts are looming for this city west of Kyiv.
But, as resident Eugene Herasymchuk wrapped up his day at work on a sunny spring day, he was confident for the future.
"We had three weeks without attacks and we had power. And the power in the system allowed local authorities to start up the trolleybuses and trams. That was a big step because before that public transport was on a pause."
And for many Ukrainians, it was not long before they were back on the grid.
"It's safe to say that Ukraine won on the energy front," said Tetyana Boyko from civic network Opora, praising the fleet of energy workers and international help. "Let's pray, but I think the worst-case scenario is over."
The winter may be over, but Oleksii in Kharkiv believes the battle to save Ukraine's power supply from Vladimir Putin's missiles will continue as long as Russia has the ability to strike it.
Every one of Ukraine's thermal and hydroelectric power plants has been damaged since Russia launched its assault on the energy infrastructure last October. Kyiv had already lost the use of Europe's biggest nuclear power plant at Zaporizhzhia, which is in Russia hands.
Sub-stations have been reduced to hunks of twisted metal, no longer capable of transforming the electricity to power for homes and businesses.
For two weeks in the depth of winter, the BBC followed teams of engineers and technicians rushing to repair the damage that the missiles had done.
One substation was hit six times with missiles or drones and replacing these damaged transformers will take time.