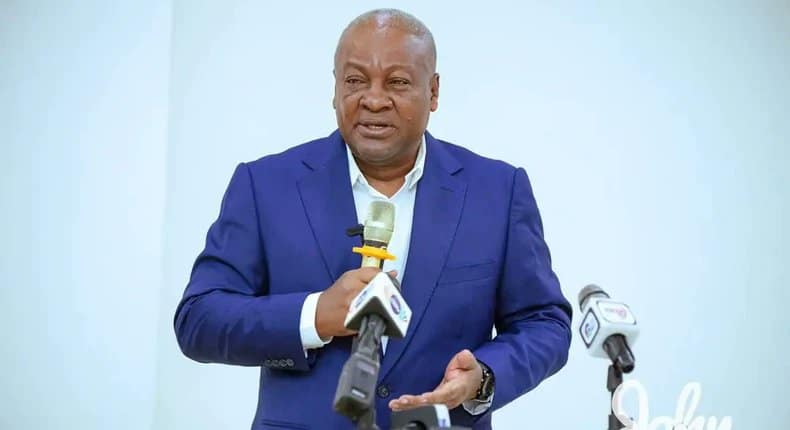 Former President Mahama is expected to be arrested for what the New Patriotic Party describes as a treasonable comment he passed at a party function.
A petition filed by the NPP at the Criminal Investigations Department (CID) deemed Mr. Mahama's 'do or die' comment as highly offensive and thus must be arrested.
The National Organiser of the NPP, Henry Nana Boakye who sent through petition said these conducts are contrary to Sections 180 and 207 of the Criminal Offenses Act, 1960 (ACT 29) respectively, and which offences are to be dealt with pursuant to Section 1 of the Criminal and Other Offences (Procedure) Act, 1960 (ACT 30).
Major parts of the petition read:
"Former President John Dramani Mahama, without regard to his stature as a statesman, proudly touted across various platforms, the revolutionary root of the NDC and their unparalleled capacity when it comes to unleashing violence for political gain. Further to this, are his comments to the effect that the NDC's approach to the elections of 2024 shall be one of "do or die" and "boot-for-boot". Invariably, this speaks to their unwavering resolve to use fair or foul means to procure electoral advantage regardless of the consequences."
"When he was asked during a media interview what he meant by 'boot-for-boot' and 'do or die", and whether with the benefit of hindsight, he would want to retract those incendiary comments, John Dramani Mahama insisted that he meant what he said and that he was never going to retract."
Meanwhile, the NDC has also insisted that until President Akufo-Addo was also arrested for his 'all die be die' comment, Mr. Mahama must be left alone.