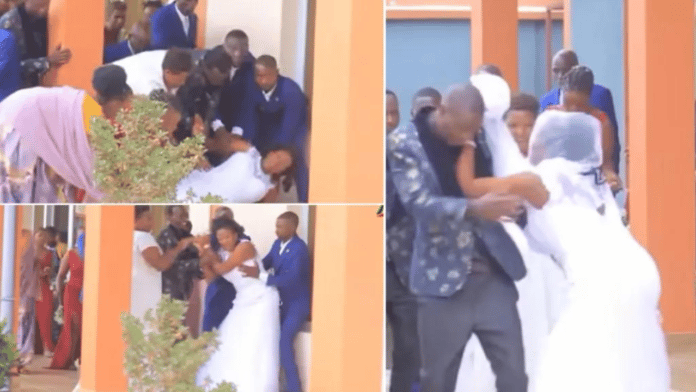 A video of a bride lashing out blows at her husband-to-be on their wedding day at Rwanda has been making rounds online.
In the early minutes of the video showed the bride and the groom exiting a grand building before heading to church for their nuptials.
The groom wore a black and purple outfit while the bride donned a lovely white gown.
The bridesmaids and groomsmen lined up behind them wearing maroon dresses and blue suits.
Everything looked fine until the shocking moment the bride suddenly went diabolical.\
Prior to the twist of events, both the groom and bride held their hand and were beaming with smiles as the lady carried a bouquet.

Just within minutes, she suddenly let go of the groom's hand and slapped him on the back of his head.

She then threw the bouquet to one side and gathered her flowing gown ready for a fight as the bridesmaid and groomsmen rushed to intervene.
The best men and the rest of the bridal team jumped in to restrain her following the aggressive attempts of trying to tear her fiance's clothes.

They had a hard time calming down the infuriated woman who eventually dropped to the floor. Some of the bridesmaids could be seen crying.
Watch the video below: