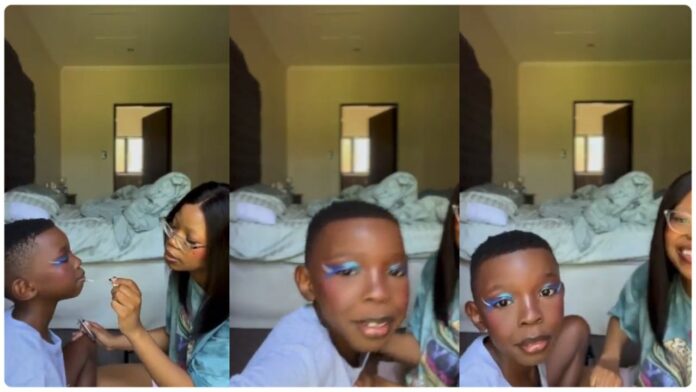 Concerns have been raised about a video of a lady applying makeup on a boy's face.
Many who have come into contact with the post have reacted with disdain and abhorrence.
According to them, the lady is imbibing into the poor boy's homosexual tendencies, which would eventually result in her deciding to be a woman.
While the lady has stiffly defended herself by stating that she was just having fun with her cousin, social media users are calling her out.
Sensitive homophobic comments have been passed, with most of these people exhibiting little or no tolerance for her actions.
She has been chastised for incorrectly influencing her and recklessly exposing her to the dangers of homosexuality at such a young and vulnerable age.
@Inkoshanzana wrote: This, right here is absurd. Instilling the wrong mindset to a child should be an offence. This BOY child shouldn't be used as a no'dollie to perfect your makeup skills. Let boys do boy staff! What a useless aunt…
@Unidelm wrote: Nonsense. You're emasculating the little man. Hw should be doing back flips and dribbling his mates in the field
@mrkelvin wrote: you are the best cousin. thank you for sharing this moment with us & being a safe space for them sending you both love!
@BilliamBatters wrote: This is all the way wrong and I'm not going to hold my words no matter who get upset cause this needs to be said: That is the completely wrong shade of lipstick for his complexion. Try a lighter shade but keep it in the skin tone category.
@Richspirit wrote: I'm gay and I don't approve of children wearing makeup. Male or female!
Check out some of the screenshots.