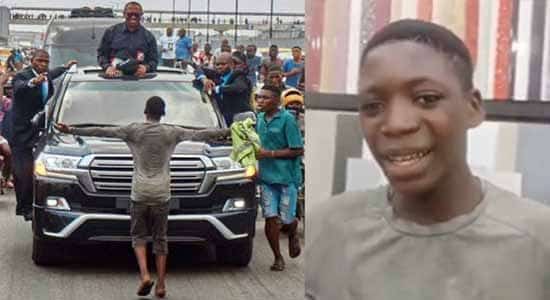 Yusuf Alimi is a young Nigerian boy whose iconic post in front of Peter Obi's convoy has gone viral.
Many Nigerians believe the picture depicts the true state of Nigerians, where they are in a state of despair yet trust someone like Peter Obi to rescue them.
The position of the boy with open arms as the Nigerian presidential convoy approaches has warmed the hearts of many Nigerians.
As a result, he has not only gained fame but has also received several goodies, including scholarships and sponsorship from top Nigerians.
Nigerian big boys Cubana Chief Preist has offered to sponsor the boy's education and his upkeep for the rest of his life, including other kind gestures from Nigerians.
Speaking to the media, Yusuf Alimi said he stood in front of Peter Obidi's convoy out of his own volition and was not tasked by anyone.
According to him, his love for Mr. Obi compelled him to meet his welcome with open arms.