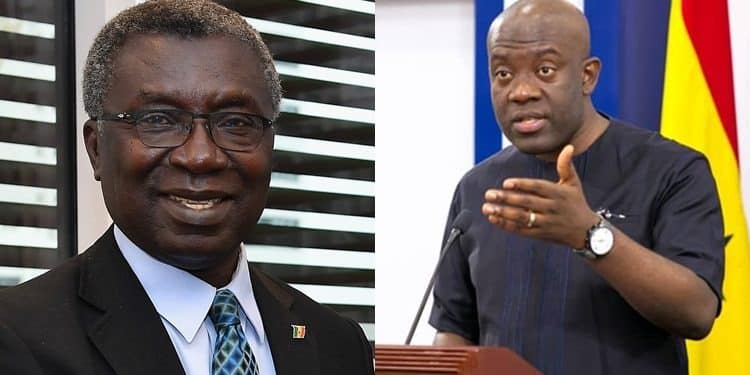 Professor Kwabena Frimpong Boateng, a former minister of science, environment, technology, and innovation, has advised Information Minister Kojo Oppong Nkrumah.
He termed the words of advice as fatherly following the latter's denial of all the assertions the former made in his galamsey report.
Among many other things, Prof Frimpong Boateng accused Kojo Oppong Nkrumah of scheming to bring him down as Chairman of the now-dissolved Inter-Ministerial Committee on Illegal Mining (IMCIM).
On the back of that, Prof Frimpong Boateng in a statement addressed to Oppong Nkrumah reminded him about the fickleness of power and why he must accord him the necessary respect as an elderly.
Parts of the statement reads:
"I have good advice for you, though. When I was part of the government, we were colleagues and I related to you as such. Now I will advise you as my son, just as I do my children. After all you are the same age as my 4th-born son. When I returned to Ghana from Germany to start the cardiothoracic project you were just 6 years old as my 4th child. I will not lie to you or insult you or be harsh on you."
"My advice is, always remember that political power is both short-lived and effervescent. In about 2 years' time you may no longer be in government, and you may experience the real world as former high-profile political power holders do. I will urge you to do your work diligently and avoid the coded and evil tactics Mr. Paul Adom-Otchere boastfully and unashamedly told the world on 'Good Evening Ghana' that you employ to deal with your real and perceived enemies".
Mr. Oppong Nkrumah had vehemently rejected the allegations, describing them as completely false and adding that, despite being utterly disappointed by the claims, he forgives the former minister.
"Over the years, I had nothing but great admiration for Professor Frimpong-Boateng's public-spirited works and as an inspirational citizen. I feel gravely offended over the false claims he has made and the hurtful conclusions he has sought to exact about me precisely because of the great esteem in which I have held him.
"I trust that in the coming months and years, he will reflect deeply upon his own actions and comments which have led to his challenges. He should kindly leave me out of his personal fights. I am utterly disappointed but I forgive him."
This was after Prof Frimpong Boateng had alleged in his report that:
"On Saturday the 8th of February 2020, Mr Kojo Oppong Nkrumah, the Minister for the information assembled a group of journalists from both NDC and NPP affiliated media houses at the Forest Hotel in Dodowa to discuss a strategy to bring me Kwabena Frimpong-Boateng down."