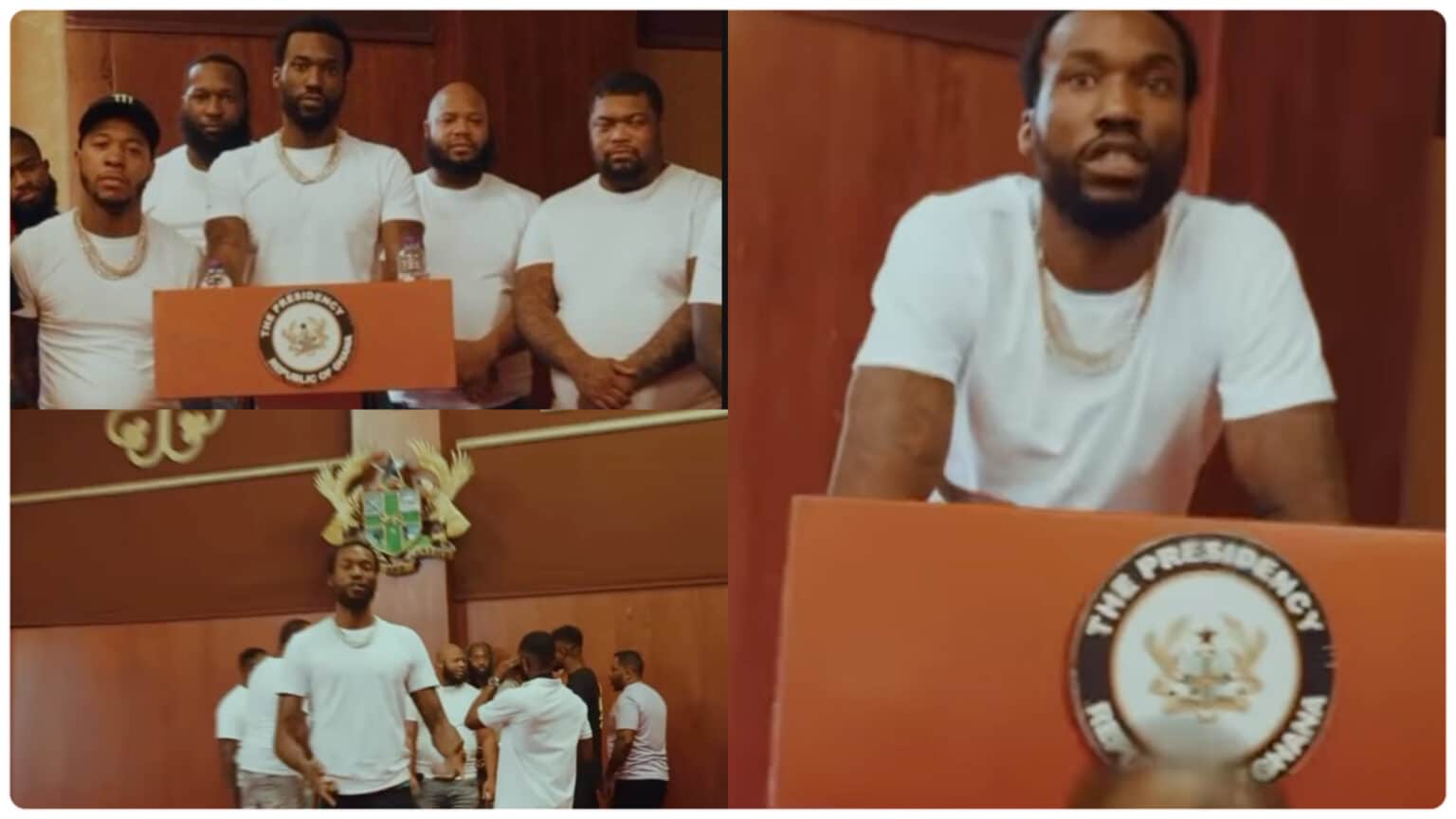 Ghanaian President
Nana Addo Dankwa Akufo Addo
is currently being bashed on social media over a music video shot by American rapper
Meek Mill
at the seat of the Government.
American rapper Meek Mill who was in Ghana some weeks ago for a performance yesterday released a music video for his new song and this has angered some sections of Ghanaians.
The video for the music was shot at the Jubilee House a security instalment and also the residence of the President of the country.
Netizens after seeing the video questioned why the Government would allow the musician to shoot a music video at Flagstaff house when even Ghanaians find it hard to access the same place.
Watch the video here.
According to some of them, President Nana Addo has reduced the Flagstaff House by allowing this since his personal office was allegedly used during the music location.
Check out some reactions below:
@BongoIdeas: "Meek Mill dems are not even rated in the US, but they come to Ghana and get treated like kings. The audacity for him to shoot a video in the Jubilee House shows how Addo D has cheapened the presidency. Our leaders are not just CLOWNS; they're a LIABILITY to this country."
@OleleSalvador: "Director of Diaspora Affairs & Minister of Interior, y'all really get questions answer for that Meek Mill video oooo.. how's a drone being flown over the Jubilee house? As innnnnn???? You can't even shoot a photo at the Independence Square & not get jumped at by 'security' Herh!"
@_Danielsackitey: "Meek Mill really shot a music video at Jubilee House?? This is the lowest point we can get as a country
What happened to "Jubilee House is a security zone"?? Even American Embassy in Ghana, you can't take pictures and Ghana ?? allows Jubilee House to become studio.We are FINISH"
@PrempehNanayaa: "Is this the jubilee house ? Nana Addo and his family have reduced the image of Ghana to nothing. So because this guy is fucking the Akufo-ADDO's daughter, all his wishes must be granted. Nana Addo must be impeached."
@AnnanPerry: "The office of the president has been in disgrace since Akufo Addo became president. There's no dignity again. Who is Meekmill to shoot a video at the jubilee house. Herh"